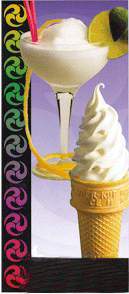 Limelight Foods of Canada Inc. was established in 1987, as family run business, to market and distribute soft serve products to the growing "Frozen Yogurt" market. In the last years, Limelight has grown to become one of the main manufactures of the soft serve and granita mixes in Canada. Limelight Foods' signature products is the "Alaska Cool" line, which is manufactured in Vancouver & distributed through out Canada.
"Alaska Cool's" first product line in the early 90's was the non-fat "Frozen Yogurt" mix, which is still the best seller. Other products followed to expand the company, such as the low-fat "Soft Serve" mix and the latest addition, the liquid "Ice Milk" mix. During this period we alse developed the "Fruit Granita" and the "Cafe Granita" products.
To be able to work closely with our customers we also provide equipment's for our products. "The Flavour Machines" has been the latest trend in the frozen drink market. We can arrange a financing program for these machines to suit your financial situation. As for the soft serve machines we work closely with DSL Inc. (the suppliers of "Taylor Machines"). Together we offer and provide the right machine for our customers either through a special up charge program or a simple direct sale of a new or used machine.

Limelight Foods is a progressive company that is contently seeking new products to enchance its existing operations. We are open to new opportunities to create mutually beneficial business relationships that will in turn benefit our customers. Limelight is committed to producing superior products and providing its customers with a first rate service. We welcome any questions or comments and we thank you for your interest in Limelight Foods.